To taste all the flavors of Vietnam without having to travel the length of the country, James Pham, our favourite Lonely Planet contributor headed to Spice Viet Hoi An.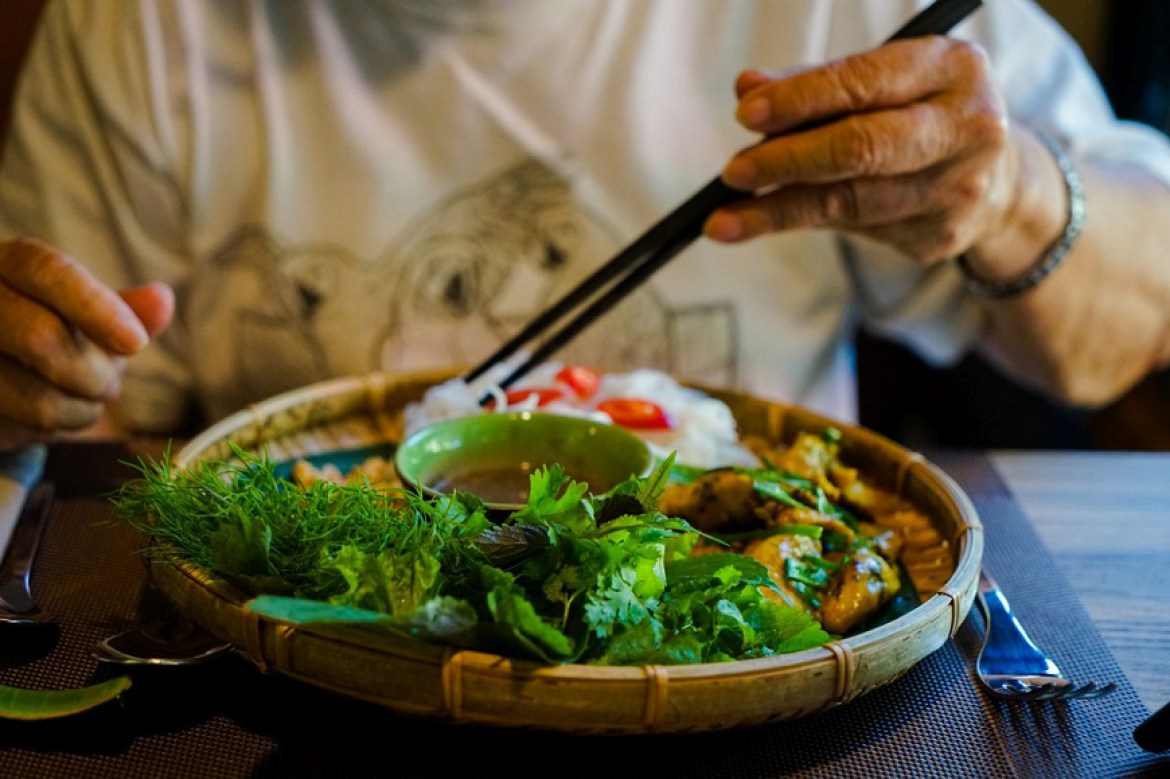 One of the joys of any trip to Vietnam is eating your way through the literally hundreds of distinct dishes that range from healthy "fast food" like the internationally-loved "banh mi", a crispy baguette loaded with fixings, to dishes that take hours and hours to make, like the ubiquitous "pho" noodle soup where bones are often stewed for up to 24 hours to extract every bit of meaty goodness from them.
In addition, each region (and sometimes even down to individual cities and towns) have their own specialties, from Hanoi's smoky and succulent grilled pork dish known as "bun cha" to the hearty, vibrant "cao lau" noodles made only in Hoi An and on down to the pungent, sweet and tangy "bun mam" hot pot of the Mekong Delta.
To taste all the flavors of Vietnam without having to travel the length of the country, we headed to Spice Viet, just a 5-minute taxi ride from the center of Hoi An's Ancient Town.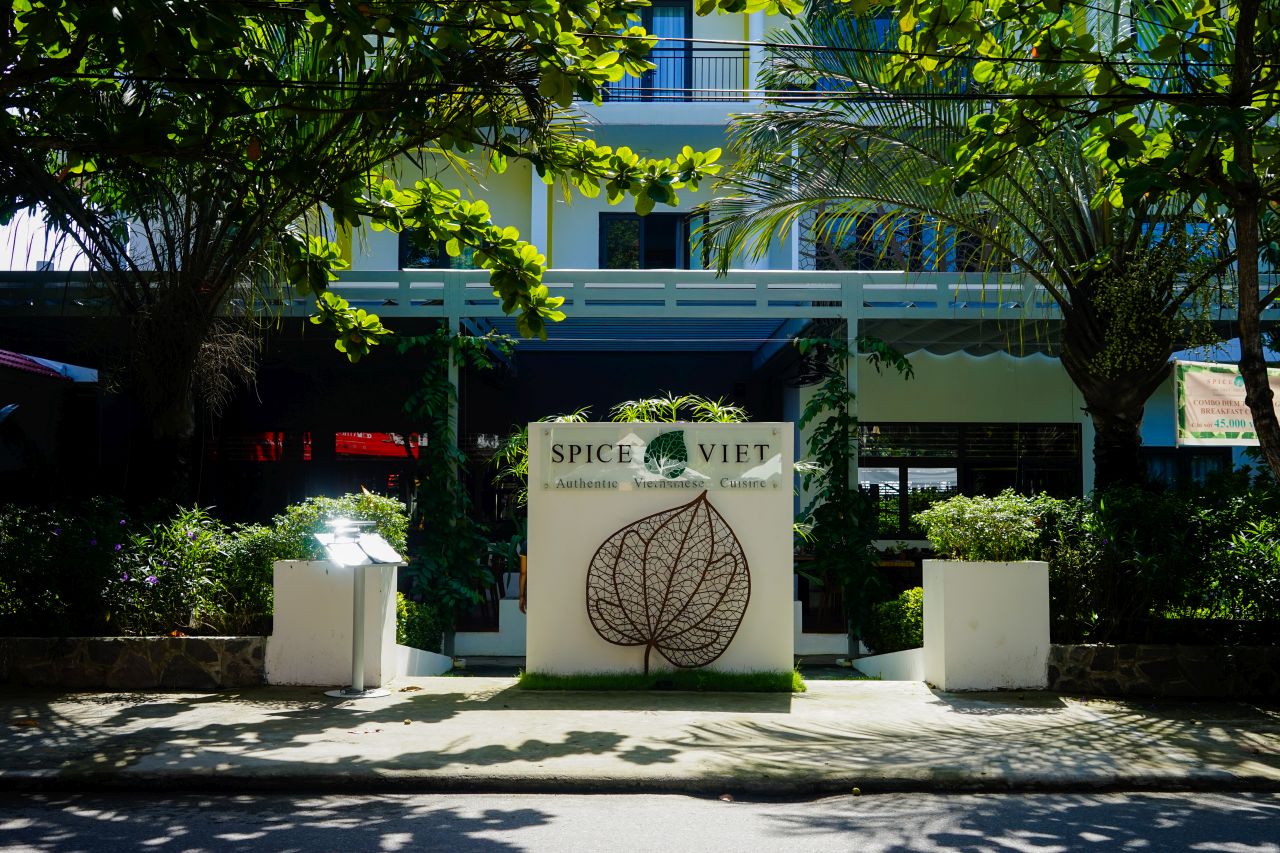 Opened in July 2018, Spice Viet Hoi An has already gained a reputation for building on the freshness and simplicity that Vietnamese is known for by using sustainable, organic produce, most locally-sourced within a 30km radius of the restaurant.
We peruse the menu, a beautifully curated selection of Hoi An specialties, favorites from all around Vietnam, and appetizers and vegetarian dishes. Even though the menu is short and sweet at just three pages, we spot a number of tantalizing dishes that we haven't seen on any other restaurant menu including Vietnamese smoked duck breast, chicken stewed with lotus seeds, and a green papaya salad topped with grilled flank steak in a tamarind dressing.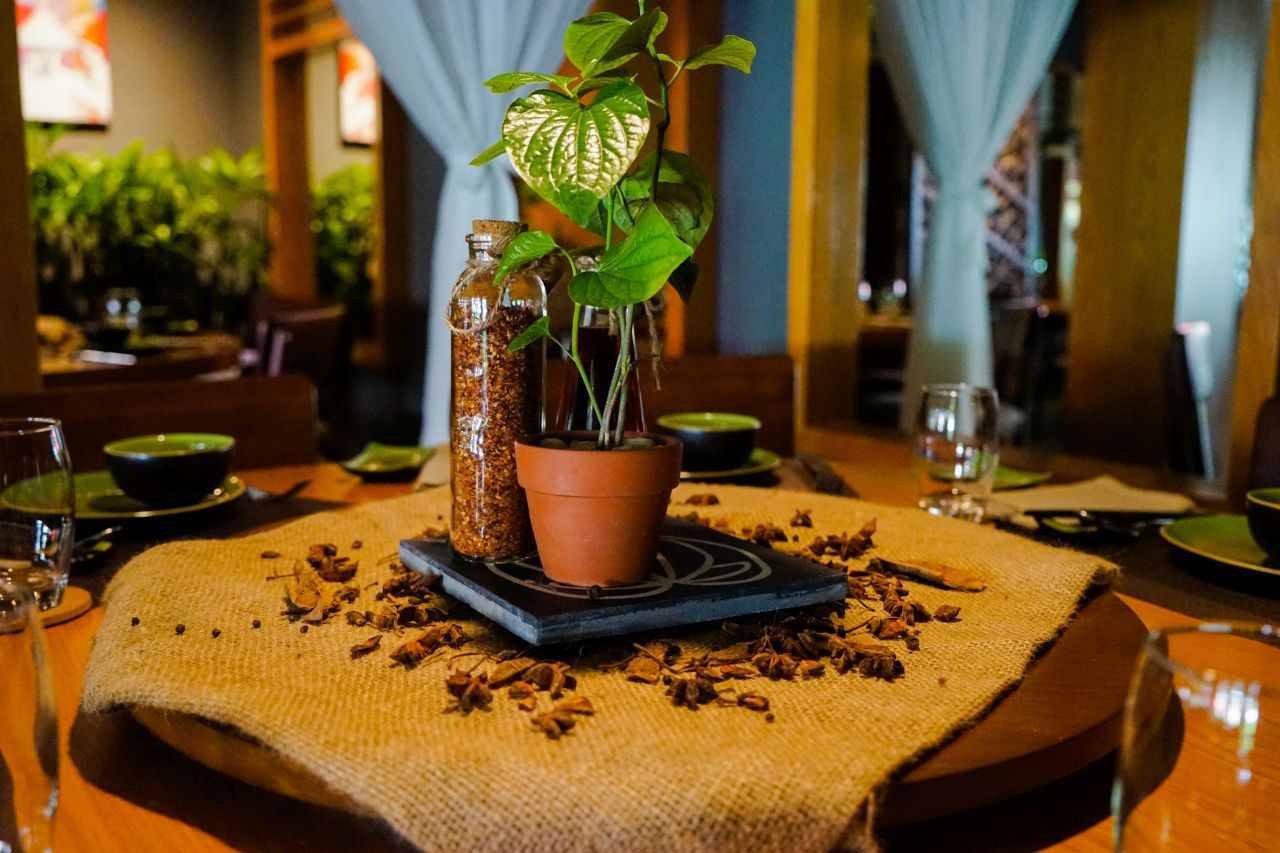 In the end, we settle on dishes from Hoi An and Hanoi, starting with a fried wonton appetizer topped with a sweet and sour sauce. While wontons can be found everywhere in Vietnam, usually in a noodle soup, Hoi An has its own version, using crispy fried wonton skins as a base for a topping of shrimp and pork in a tangy sauce with crunchy bell peppers and onions. It's a great starter and wonderfully unique to Hoi An.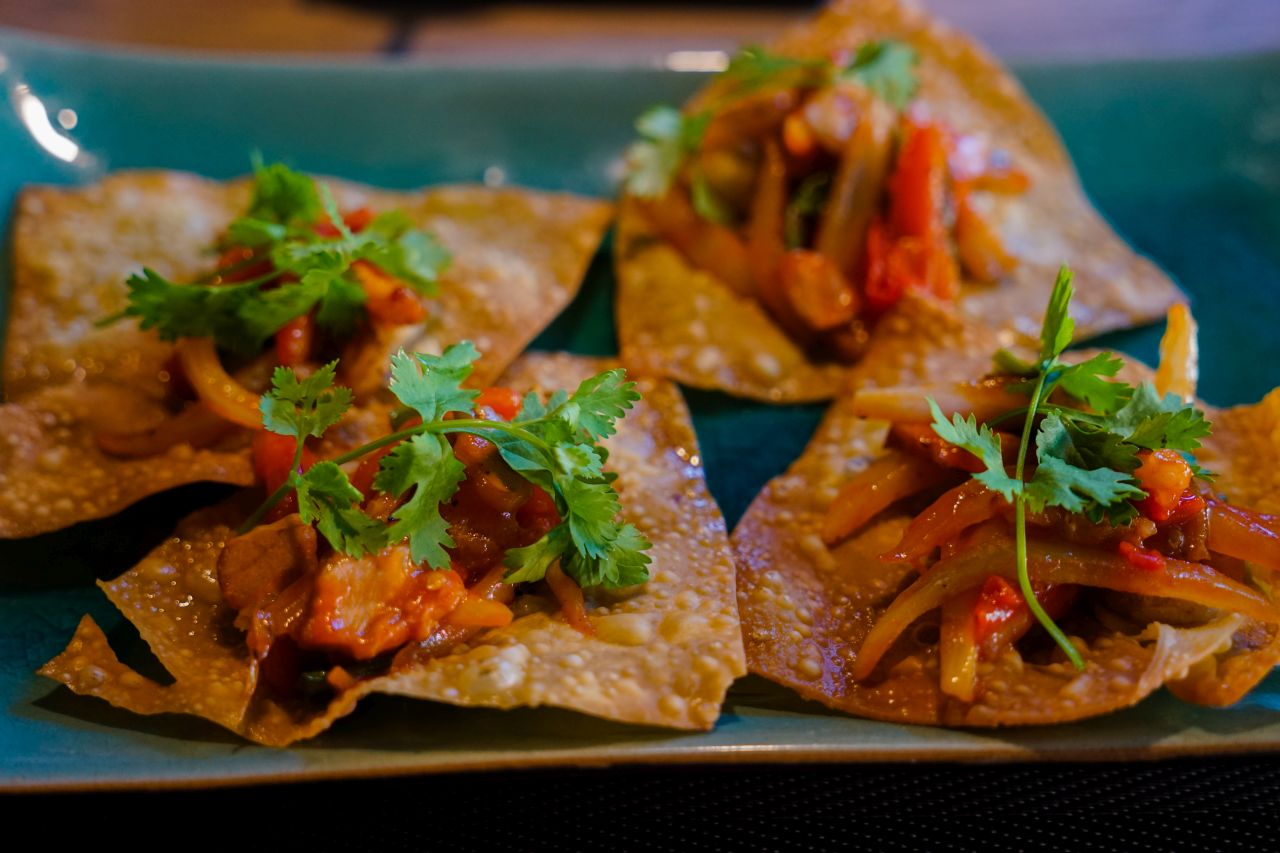 Next came another Hoi An specialty in the form of chicken and rice, a simple yet healthy comfort-style one-plate meal. The secret to Hoi An's chicken and rice which Spice Viet does very well starts with flavorsome free-range chicken that infuses flavor into every component of the dish. The stock from boiling the chicken is used to cook the rice, made a pretty shade of yellow with a dash of turmeric. The broth is also used for a side soup to wash it all down. Another secret to Hoi An chicken rice is that aged rice is used instead of new rice. Rice aged more than a year allows the grains to dry out, resulting in cooked grains that are full and firm without sticking together like new rice. Sliced onions and herbs, along with pickled carrots and daikon, add brightness and a crunchy texture to the dish.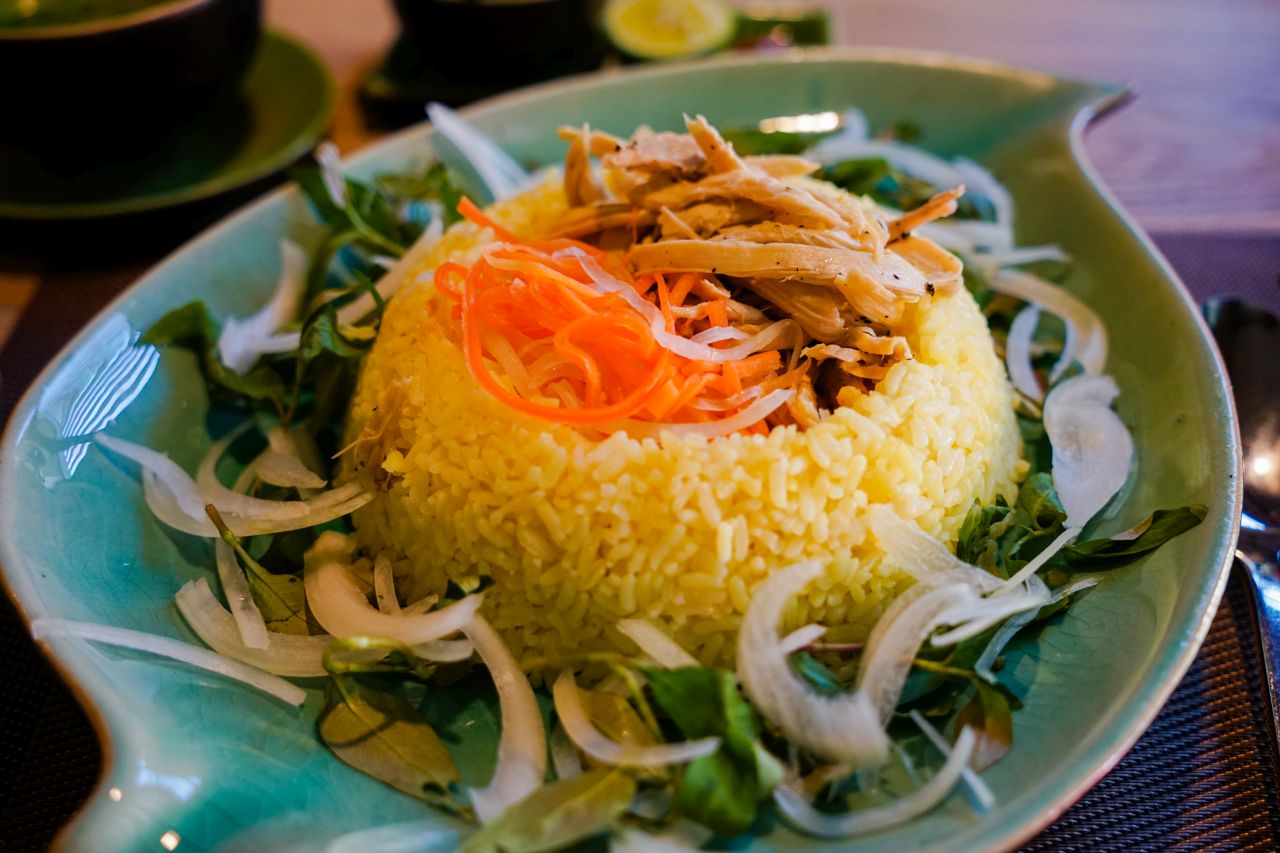 For our other main, we head north to Hanoi for "Cha ca la vong", pan-fried chunks of boneless fish marinated with turmeric and galangal. The beauty of this dish is in the freshness of the herbs, including dill, not commonly seen in Vietnamese cuisine outside of northern Vietnam. Spice Viet gets all its herbs from nearby Tra Que, a village known for growing fresh, organic produce for the last 300 years, using locally-sourced seaweed to fertilize the plants instead of chemicals. Our "Cha ca la vong" was a beautiful mix of fresh, flavor-packed herbs, along with the firm, moist fish, and eaten with fresh rice vermicelli noodles and a purple, pungent shrimp paste sauce.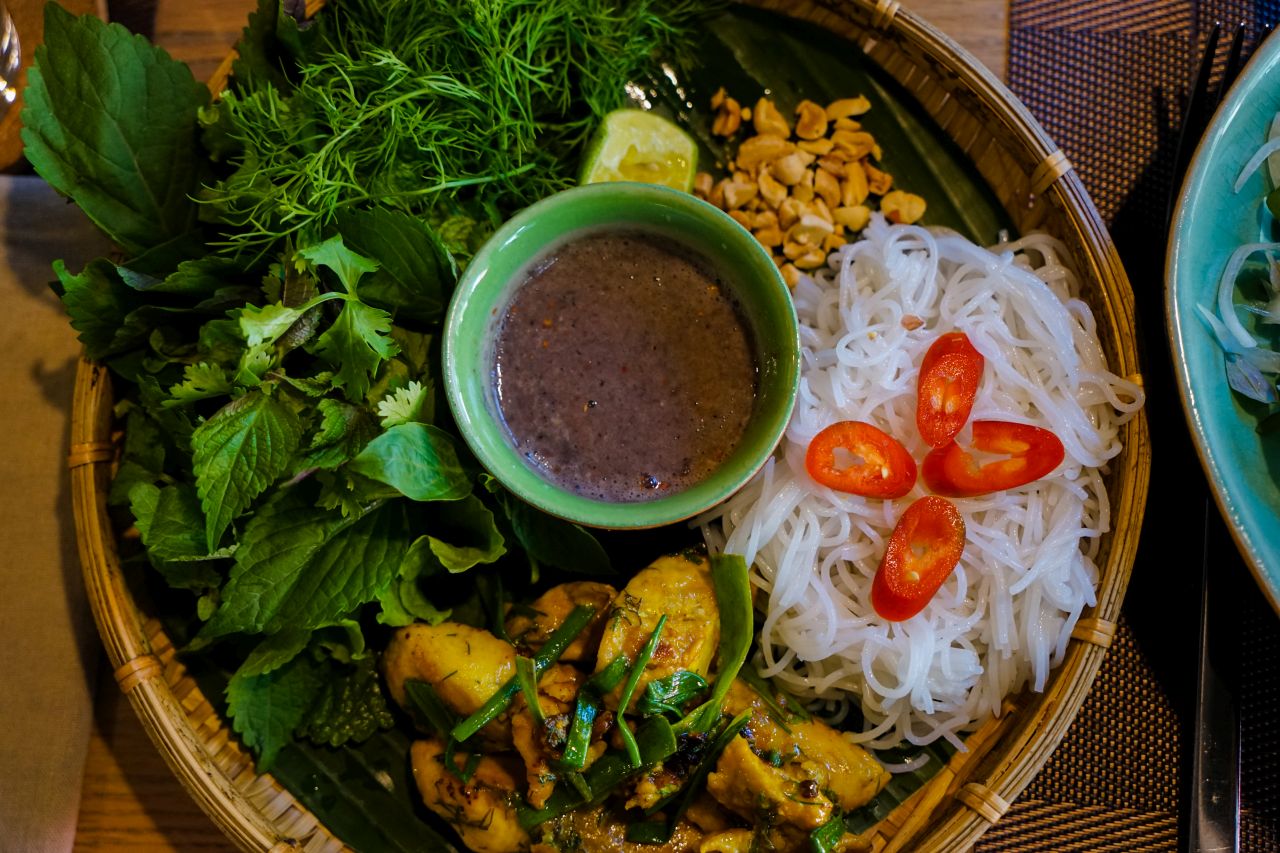 Fully sated, we shared a final dessert of Pineapple carpaccio, a modern take on tropical flavors, incorporating coconut ice cream and a caramel rum sauce to go along with thinly sliced fresh pineapple for a refreshing finish to our meal.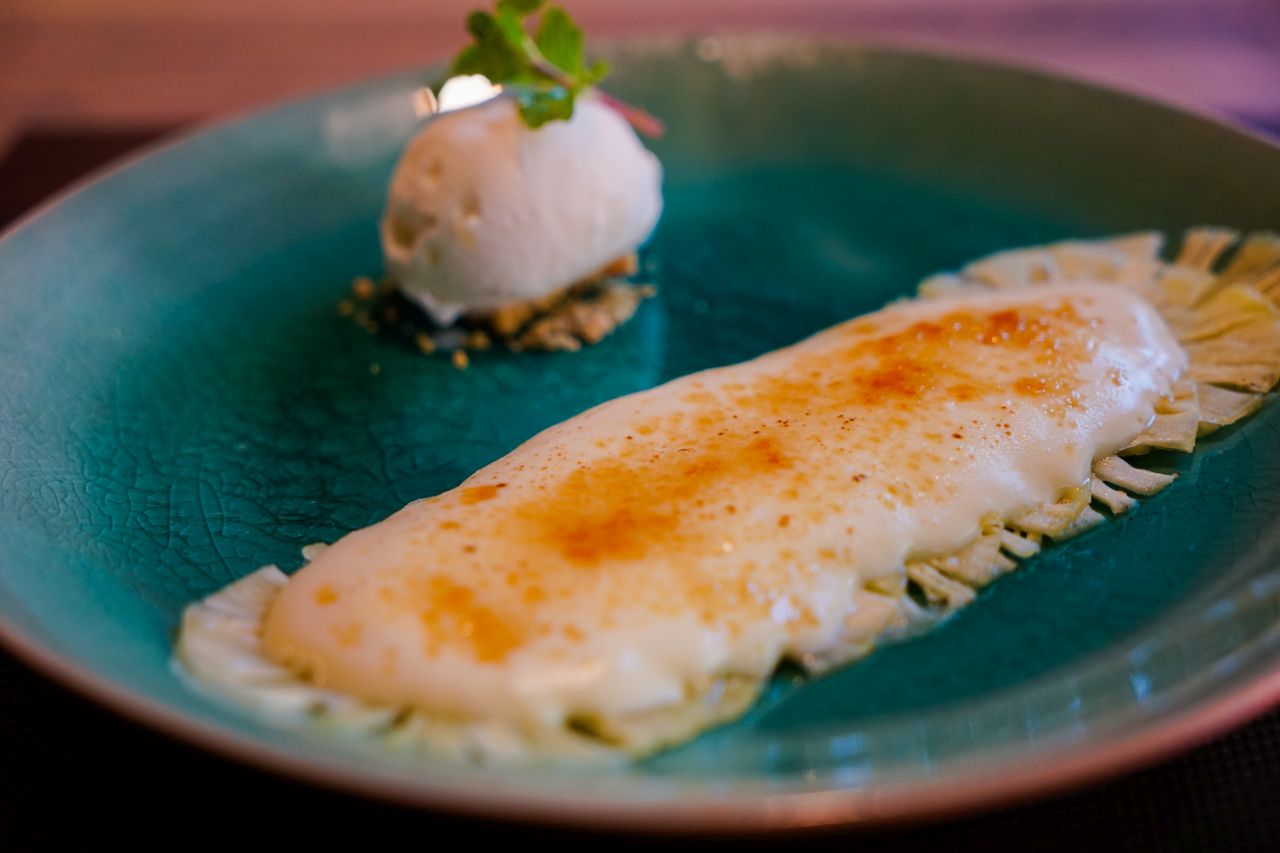 In one of the country's most famous food destinations, we were thrilled to go on a culinary journey through Vietnam, all in a beautiful, spacious setting of dark woods, lots of live greenery, and pretty displays of fragrant, dried spices. Intricate latticework and flowing fabrics create distinct dining spaces, allowing for both large tour groups and more intimate gatherings.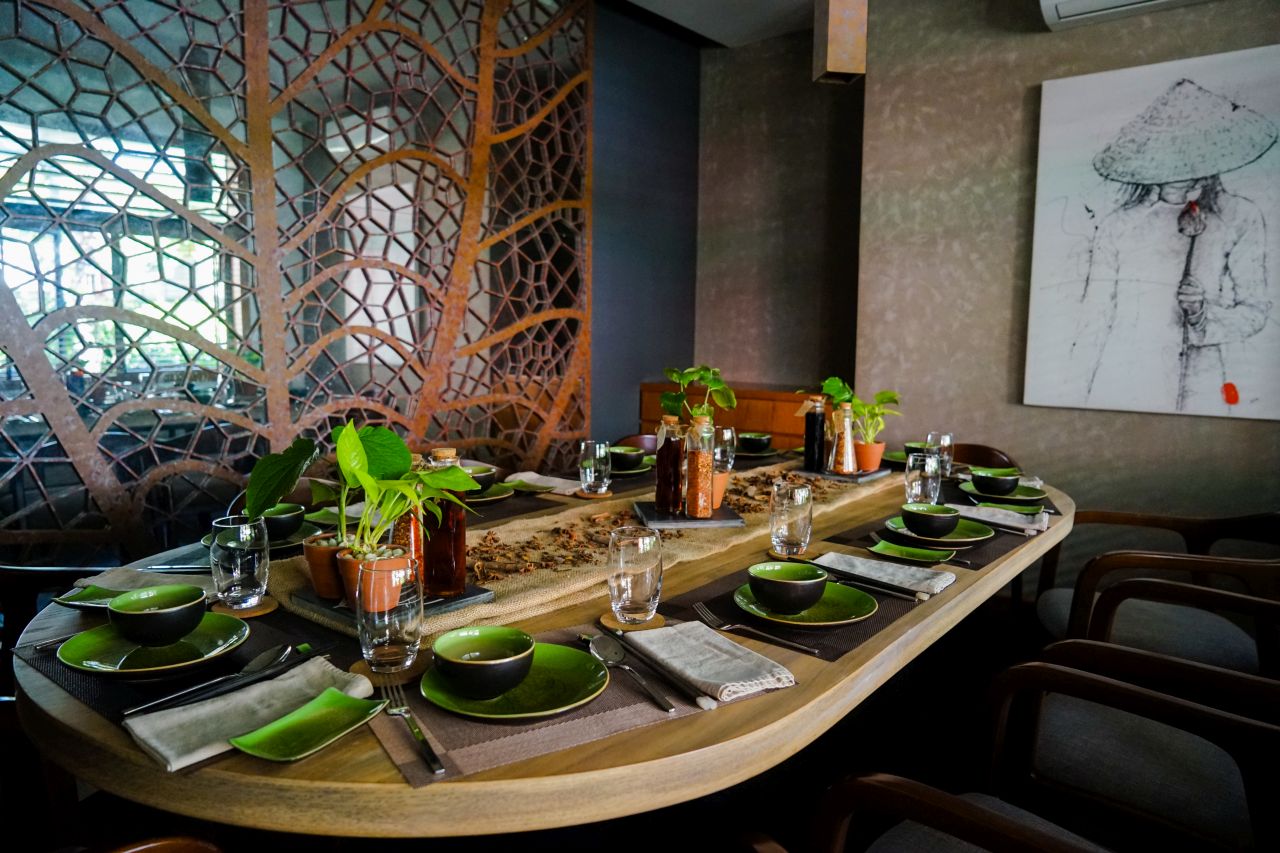 Spice Viet Restaurant is located at 187 Ly Thuong Kiet, just next to ÊMM Hotel Hoi An.
In Saigon: 157 Pasteur, District 3
In Hue: 15 Ly Thuong Kiet, Hue

Source: Spice Viet